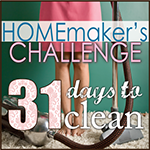 I decided to jump in and join the "31 Days to Clean" challenge on Joyful Mothering (click the picture above to read all about it). I purchased an eBook copy of the book, so I'm stuck reading it on the computer (via KindleForPC), but at least I don't have to do a bunch of printing.
The challenge started last week, with Days 1 -5 being "assigned" for Monday through Friday.
Each day, the book presents a short reading – a lesson, a devotional, a motivating story, etc. Then there is a Mary Challenge (for your heart), and a Martha Challenge (for your hands). Theoretically, in 31 days, you'll have a "Spring Cleaned" home, as well as a changed attitude and plan for keeping things in order.
Can't hurt, right?
So, how did Week 1 go for me? Hmmmm… Fair.
I enjoyed the readings, and was able to get on-board with the Mary Challenges.
The Martha Challenges were a bit more problematic.
I did get the fridge and freezer cleaned out and cleaned up on Day 2… But I got slightly freaked out when I looked ahead for the supplies I would need to complete the rest of the tasks (that was a task), and discovered that on Day 6 I was expected to clean out an organize all my kitchen cabinets.
Ummm, no. That big a chunk of time is just not in the agenda for that day – or, realistically, for any day when anything else is happening.
That is not in the same league of time as the other Martha Challenges, which seemed like incremental and do-able "baby steps".
Now, classically, I have gotten freaked out and I'm having trouble working up the motivation to read and participate any further. Who knows WHAT other Martha challenges will be ahead (I don't – I was too chicken to keep looking after that!).
Yes, I will get back on the horse. Maybe this week will be smoother…
7 Responses to "31 Days to Clean – Week 1"