I am pleased to announce that As For My House is hosting the Carnival of Homeschooling next week.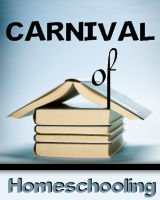 We have hosted the Carnival a few times over at Life on the Road. You can swing by there and check out our the last adventure, The RPG Adventure Edition.
I'm writing this post in the hopes that you'll join the party!
If you have a blog, you're welcome to submit an article:
The post can be new or old – anything you've written is fair game!
Your *blog* does not have to be about homeschooling, only the post you submit.
It's easy to submit with the Blog Carnival form.
You can also find more info at the website that runs the carnival, "Why Homeschool".
Just be sure to send in your submission by Sunday night, then come back by Tuesday to read all the other wonderful entries.
…And if you know anyone else who blogs homeschool, please spread the word!!
Hope to see you "there"!
3 Responses to "Come Join the Carnival!"